Spend a day or night on-the-water with Fishing Hall of Fame Guide Greg Bohn. Author of 5-walleye books and 150-nationally published articles. Over 4-decades of guiding experience fishing Northwood's lakes and flowages in Vilas & Oneida County. Learn Walleye Secrets and Slip Bobbering techniques from the master.
Bohn's articles have been featured in Fishing Facts ~ Great Lakes Fisherman ~ In-Fisherman ~ Midwest Outdoors ~ Outdoor Notebook ~ Outdoor Wisconsin ~ North American Fisherman ~ Walleye Insider and many more!
Greg Bohn & Markus Steigerwaldt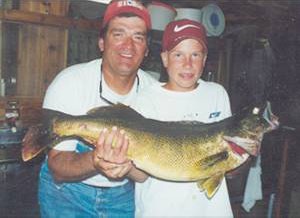 25# World Line Class Record
August 2, 1997
Stats: 33.25″-15#, 7 oz. 21″ Girth
Lake Tomahawk, Minocqua, WI
Largest Walleye State of Wisconsin 1997
Guide Greg Bohn
1st Place Vilas County Musky Marathon
June 27, 1993
Stats: 56″ – 44#, 8 oz. – 27-1/2″ Girth
1st Place Vilas County Musky Marathon
Largest Musky Taken in North America 1993
10th Largest Vilas County Musky Marathon All-Time!
Strictly Walleye clients displaying their catches