Deep Sandgrass Walleye
By Ted Takasaki, Greg Bohn and Scott Richardson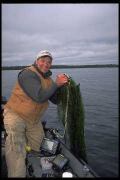 Early-season weed walleyes are not exclusive to America's Northwoods. Fishermen in the nation's Southland find spring walleyes roaming highland reservoirs over beds of moss, a kind of water hyacinth, said John Holstine, founder of the Arkansas Walleye Association.
Early in the year, Wyoming anglers round up walleyes in flooded sage brush and buffalo grass on the edges of reservoirs, added Scott Golden, a westerner and founder of the popular Web site Walleye Central.
In Arkansas, canyon-type, clear-water lakes like Ouachita host moss that blankets mid-lake humps normally found on channel edges. Holstine said some of the humps top out just below the surface. Vegetation covers the humps and flats adjacent to them down to depths of 18- to 46 feet.
Favorite tactics include running spinner rigs and nightcrawlers on bottom bouncers along weed edges. A second approach is to troll those same spinners over weed tops. Depending on the desired depth, use their own weight, a lead sinker pinched on the line or snap weights to take them down. Separate them using planer boards. Some trollers use crankbaits instead.
On calm days, it's hard to tell Arkansas walleye fishermen from bass anglers. Both are equally successful casting crankbaits along natural pathways in the weeds. Lures swim back to the boat in the channels imitating forage. Gamefish lay in ambush along the weed edges and pounce as the bait passes by.
Golden said Wyoming fishermen target the "picnic-table bite" at that same time of year. Spring rains and snow melt push reservoirs to high levels. Water submerges spots where families will eat dinner by the Fourth of July. But, early in the year, walleyes utilize those same areas and others where weeds grow in 5- to 10-feet of water. Vegetation may top out just 2 feet below the surface. Golden runs crankbaits or spinners just over weed tops and edges. Fishermen also troll along the "stair-step" drop offs on the shore caused by water action as the reservoir levels fluctuates over the course of the year.
Both patterns may produce through June. By July, irrigation needs draw water down from shoreline vegetation on Western reservoirs, and walleyes move to classic structure. In the South, walleyes often stay in the weeds feasting on newly-hatched bluegills and minnows until the arrival of summer when they move to deeper water.