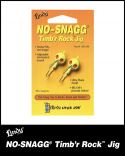 Lindy's New Timb'r Rock Jig Allows Snag-Free Fishing in Rocks, Timber and Brush
BRAINERD, MN  Lindy Little Joe, Inc. (Lindy), a dominant provider of walleye lures, fishing tackle and related accessories, has introduced its snag-resistant Timb'r Rock Jig. Designed by renowned walleye guide Greg Bohn, the new jig has a patented seven strand wire guard that protects the hook point from hang-ups. And with a unique weight centered design, it always lands upright, ready to be pulled through even the thickest wood, brush or rocks without snags.
"With its revolutionary NO-SNAGG design, you can use the Timb'r Rock Jig where no angler has jigged before. This is yet another innovative product from Lindy that helps anglers catch more fish than ever thought possible," Ted Takasaki, Lindy's President and CEO, said.
Both live bait and plastics can be presented with Lindy's Timb'r Rock Jig; the jig's collar and barb keep plastic trailers from coming off. Its big eyes and insect-like look provoke vicious strikes, and the jig's needle sharp Aberdeen hooks are proven to hold on to even the lightest of bites.
The Timb'r Rock Jig's adjustable seven strand wire guard can be bent upwards to increase hook protection and spread open or bent downward to help snare light biting fish in less dense cover. Its front tying hook eyelet provides lift for additional snag protection.
For more information about Lindy's new Timb'r Rock Jig, or other exciting NO-SNAGG products from Lindy, visit www.lindylittlejoe.com.
Known as the walleye tackle company, Lindy Little Joe, Inc. is credited with developing many of the walleye lures and methods that dominate the industry today. The company also offers a complete line of market-leading fishing tackle, jigs, rigs, floats, equipment and accessories, including name brands such as Thill and System TackleTM.